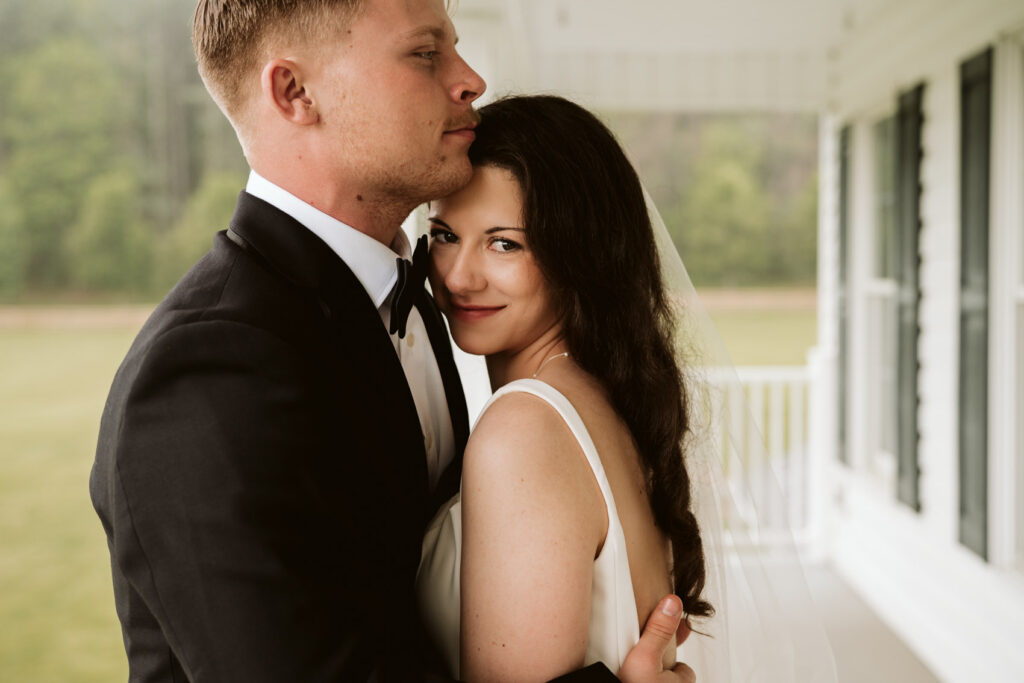 April showers are known for bringing May flowers, but for this military couple, it was the perfect setting for their wedding day. Amidst the gentle pitter-patter of raindrops on the lush green landscape of their family property, a love story unfolded that would be etched into the hearts of everyone present. Their resilience and love for each other were put to the test as the rain persisted, but just when it mattered the most, the skies cleared up, blessing their union with sunshine and joy. Let's embark on this heartwarming journey, where love conquered the rain and the celebration that followed was nothing short of magical.
Kelsey explains how their love story began: "We met through a mutual friend, Micah, who was one of Kelsey's brother's best friends in college at Liberty University. Micah came to visit Graham a few times over their college years and most recently a couple of years ago before he joined the U.S. Marine Corp. Micah and Kelsey were friends on social media and stayed in touch. Micah met Chandler in boot camp and they became best friends. They were roommates all through boot camp, base life, and a deployment in Japan, where Chandler and Kelsey started talking. Chandler and Kelsey first started talking through Social Media and FaceTime in July of 2022. They quickly became close and Chandler offered to drive up to Virginia when he got back to the states. On September 6th, 2022, Chandler arrived in Virginia and they went on their first date to Kelsey's favorite Italian restaurant in Charlottesville then to Skyline Drive to watch the sunset. This rest is history."
It was love at first sight. Their long-distance relationship proved that love knows no boundaries and that true love can withstand any storm, metaphorical or literal. Their family property, a place close to their hearts, was the perfect backdrop for their wedding, as it symbolized the strong foundation their love was built upon.
As the much-anticipated wedding day arrived, so did the April rain showers. For many couples, a rainy wedding day might be seen as an inconvenience, but for Kelsey and Chandler, it was embraced with open arms. Their love was strong, and they believed that the rain was merely nature's way of showering them with blessings. They donned stylish umbrellas and Kelsey wore her white sneakers, ready to face the day with a positive spirit.
As the guests gathered under a tent adorned with twinkling lights, the rain continued to fall. Despite the weather, the atmosphere was charged with love and excitement. As the time for the ceremony approached, something magical happened—the rain began to subside. It was as if the universe itself recognized the significance of the moment. Just as Kelsey walked down the aisle with her radiant smile, the clouds parted, and the sun emerged, casting a warm glow over the couple, their family, and friends. One part we will never forget was her brother's and baby nephews (The Ring Bros) hilarious entrance into the ceremony with wild dancing, and even a cascade of rose petals poured over her younger brother!
As Kelsey and Chandler stood hand-in-hand, the sun glistening in their eyes, they exchanged heartfelt vows that left not a dry eye in the audience. Their promises of love, support, and devotion painted a beautiful picture of their shared future. The exchanging of rings symbolized the unbreakable bond they formed through their journey together, both in love and in service.
Following the heartwarming ceremony, the celebrations continued in the lush green outdoors. A large, crackling fire pit provided the perfect spot for the couple and their guests to gather, roast marshmallows, and create delectable s'mores. The laughter and camaraderie around the fire reflected the strong sense of community that was evident on this special day.
As the evening progressed, the couple danced under a canopy of stars and fairy lights, surrounded by their loved ones. The rain had transformed the grass into a glistening carpet, making the dance floor feel like a romantic dreamland. The music played, hearts were full of joy, and the newlyweds twirled and swayed as they celebrated their new married status.
Their wedding day will be cherished not only for the picturesque setting and joyful celebrations but also for the profound reminder that love is powerful enough to overcome any challenge. As they stepped into the next chapter of their lives hand-in-hand, Kelsey and Chandler proved that with love, resilience, and a supportive community, they can weather any storm that life throws their way. And so, their journey as a married couple begins, marked by the magical memory of their April wedding, where love truly conquered the rain. Congrats, you two lovebirds!