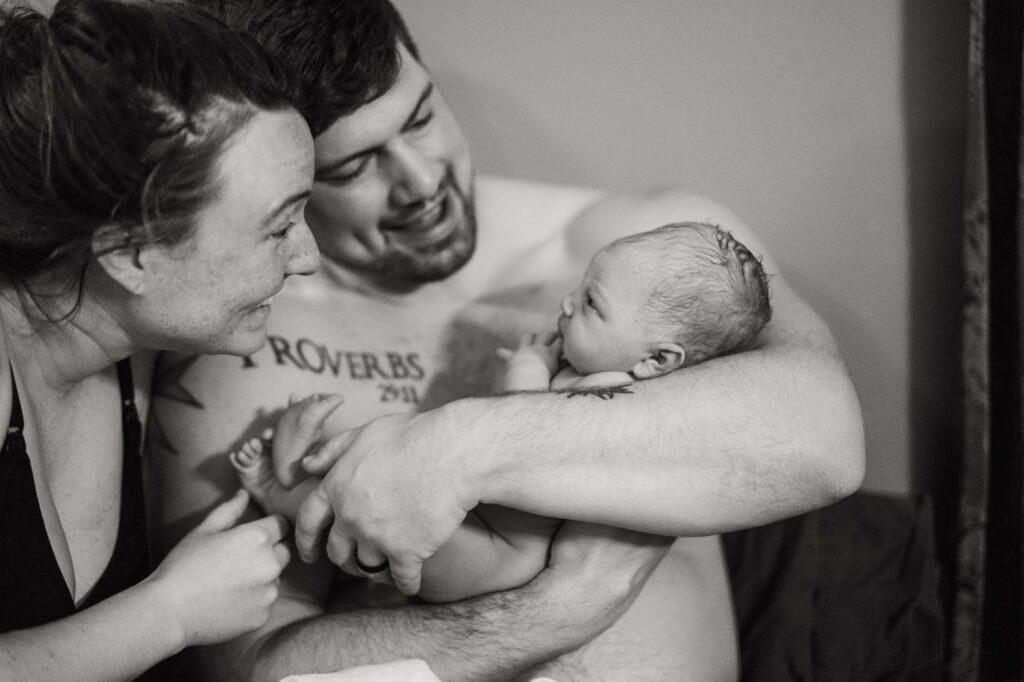 CAMPBELL | BIRTH
As a photographer, I've had the privilege of capturing some of life's most precious moments through my lens. But nothing quite compares to the experience of photographing the birth of a baby. Each birth is unique, but the recent birth of a baby girl at Brookhaven Natural Birthing Center in Harrisonburg, Virginia was particularly special.
The moment we arrived at the birthing center, we could sense the excitement and anticipation in the air. Daddy had his shirt that said "Girl Dad Est. 2023" on and couldn't stop smiling despite the long night of labor they had just gone through. The momma was surrounded by her supportive hubby who acts as her doula, midwife, and two assistants, all of whom were providing her with the love and support she needed to bring her baby into the world.
As the labor progressed, the mother's strength and determination were evident in the way she breathed through each contraction. At some points, she reminded me of a lion roaring with all her strength. I was struck by the intimacy of the birthing center and the way everyone worked together to ensure that the mother had the birth experience she wanted.
When it was time for the baby to be born, the energy in the room shifted. The mother pushed with all her might, and I watched in awe as this tiny human made her way into the world. The moment the baby was born was filled with raw emotion – the mother's and father's tears of joy as they said "she's here" and "that's our baby", and the baby's first cries.
As the photographer, my role was to capture all of these moments in a way that would allow the family to relive them for years to come. I documented the baby's first breath, her first skin-to-skin contact with her mother and father, her first feed, the cord getting cut by daddy, her assessment by the midwife's assistant, the daddy weighing her…a whopping 9 pounds and 6 ounces…all the big first moments!
Being present at the birth of a baby is a privilege that we don't take lightly. It's an honor to be able to capture these intimate and emotional moments and to help families remember them for years to come. The birth of this baby girl was no exception, and we feel so lucky to have been a part of such a special day.
Congrats, guys on your precious angel girl!
Scroll to see her birth video, and the favorite photos from the birth!