Staunton, Virginia is a charming and historic city located in the heart of the Shenandoah Valley. This past Saturday morning, the city's downtown area came alive with a special event that brought together local women-owned businesses and downtown shops for a day of shopping and community building. This was its very first time hosting this big event to commemorate International Women's Day!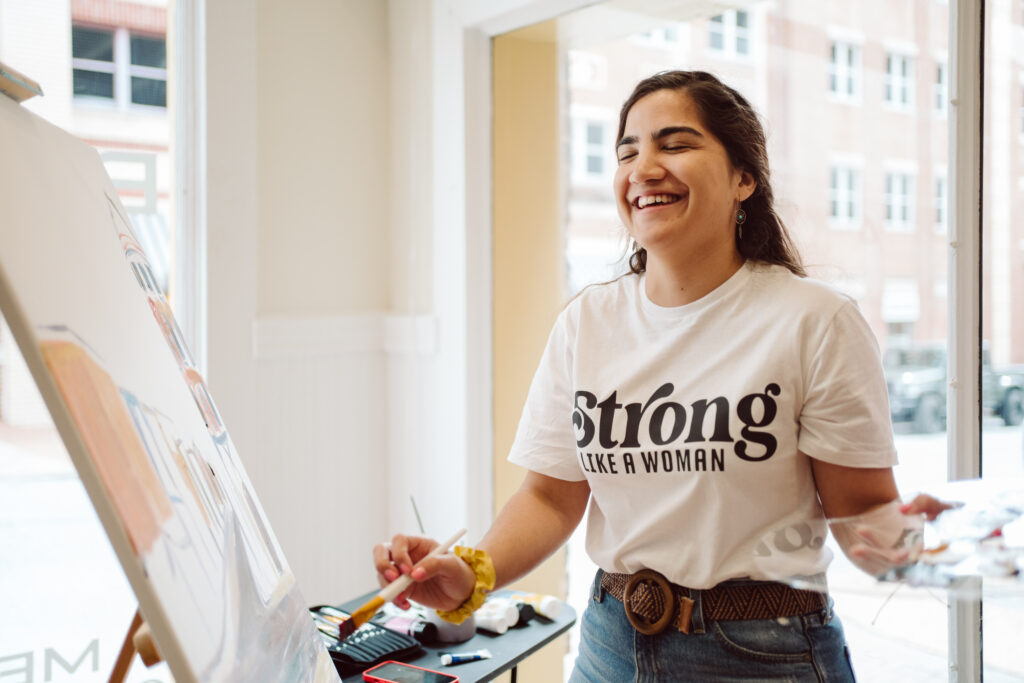 The event was a pop-up market, where local women-owned businesses set up shop inside of downtown shops to sell their crafts and wares. It was a fantastic opportunity for shoppers to support small businesses and discover unique, one-of-a-kind products.
As we walked down the bustling streets of downtown Staunton, I was struck by the variety of vendors and the creativity on display. Each shop had its own unique selection of vendors, from handmade jewelry to artisanal candles to locally-sourced honey… if you can think it, you can get it! Even painters painting as people walked by!
One of the first shops we visited was Reunion Bakery to grab a quick coffee and savory croissant, and check out a jewelry maker's work from Temper and True. I was tempted to buy everything in the booth! We walked up to Billy Opal, which is a clothing store that had several vendors selling custom illustrations (Little Miss Pinkerbell), a painter (Noelia Nunez Art), a leather product maker (Mountain Momma Handmade), and even a tarot card reader! The bright and cheerful colors of the products immediately caught my eye, and I spent a good amount of time browsing the selection.
As we continued down the street, we came across a shop that specialized in plants and home accessories (Burrow and Vine). Inside, a local clay jewelry maker had set up shop, displaying her handmade earrings and necklaces on a table in the upstairs back of the store, another creator that made beaded products, a candle/stained glass maker, and even Harmony Harvest came and set up a booth selling cut flowers that smelled amazing throughout the store!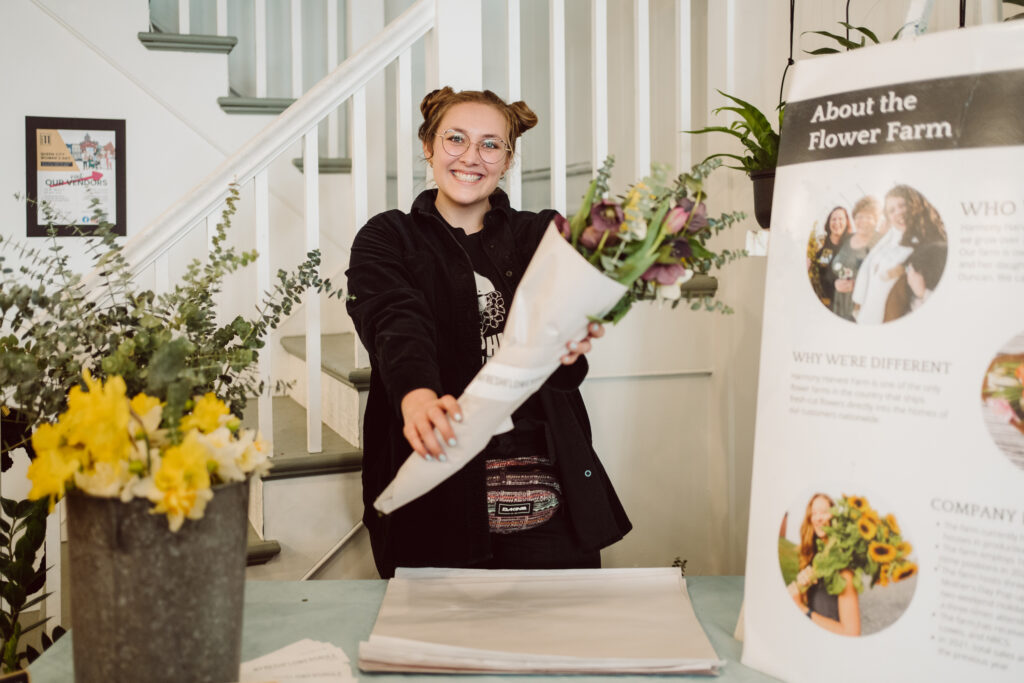 The pop-up market wasn't just a great opportunity to support local businesses, it was also a chance to learn more about the creative and talented women who were behind them. As I talked to the vendors, I was struck by their passion and dedication to their craft. We weren't able to visit all the vendors that day, but we have listed them and tagged them below if you would like to peruse their social media/websites!
Overall, the pop-up market was a wonderful way to spend a Saturday in Staunton. I left feeling inspired and grateful for the opportunity to support such a vibrant community of women entrepreneurs, and can't wait to see how big the event gets NEXT YEAR!
Vendors:
Mary Kathrine Froehlich (Haitian bags)
Lisa Carter Blues Singer
Bound Visions: Art Books by Women Artists
Little Miss Pinkerbell (artist)
Lisa Adams Tarot Readings
Ox Eye Vineyard Wine Tastings
Noelia Nunez Art (painter)
Mountain Momma Handmade
Arcadia Project Tour and Marquee Fundraiser
Susan Weeks (tiara making all day)
SEW What Bead Co (jewelry)
Anam Cara Clay Goods (jewelry)
Kaitlyn Houston (stained glass artist)
Harmony Harvest Farm Bouquet Bar
Amanda Shrader (the Skirt Project)
Whistle Creek Treats, The Honest Goat I 11 a.m .-3 p.m.
Glitter Bee (henna tattoo)
Got Rocks (jewelry)
Rachel Lettering (calligrapher and artist)
Sew Little Time (handmade aprons)
Rachel Tarot Reader
Belladonna Baubles and Curiosities
Lillybit Cottage: Children's Clothing and Accessories
Community Culture Thrift Exchange and Flora
Jen Kidd of Pretty Pretty (jewelry)
Crissy Fales (hand-painted garden signs)
Alex "P-Nut" (jewelry)
Leslie Geer (botanical designs)
Grace Hunger­ Ford (vintage clothing and purses)
TheHotMamasTrio
Kenkashi Composting
New Directions fundraiser
Temper & True (jewelry)
Tessa Whitney (jewelry)
Rachel Austin (musician)
Open Stage Performances feat. Kalela Williams (poetry)
Off­Center Staunton (theatre)
SkylarWamplar (poetry)
Diana Black (presentation)
Morning Yoga and Herbal Tea Social with Noelia Nunez and Uma White
Finklepotts Hair Fairy Heather Jessica (Mill Street Body and Soul Spa)
Brigitte Huson (live painting)