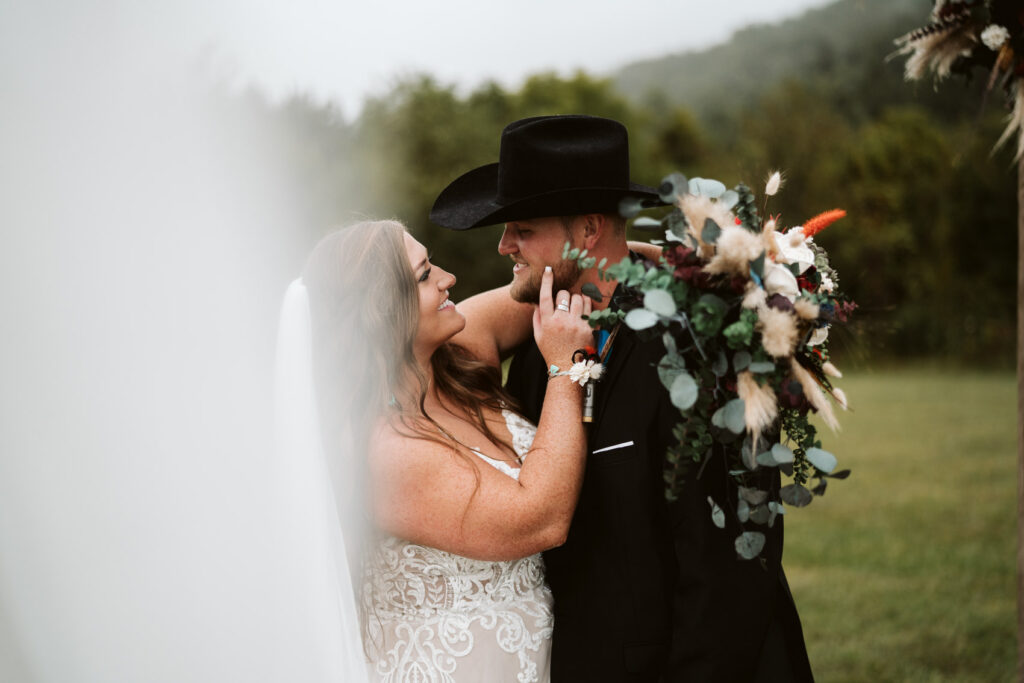 We will never forget this precious couple. We met them over ice cream at Smiley's a little over a year before they said "I Do" before they officially moved to Virginia and their whole world changed. We were so excited that they chose us to capture their "western" wedding day. Both Gabbrial and Dakota are the epitome of a country couple. They farm, ride horses, raise cattle and goats, and do all the things that a true farmer does. It was no surprise that we fell in love with them so quick, especially when they let us drive their side by side as fast as we wanted on their farm during their engagement session!
Their wedding day came in a hurry. The first weekend of October, 2022, and if you remember correctly, a HURRICANE was passing through. Cold and rainy, but their love kept everyone warm. Gabbrial and her girls got ready at one of the cabins at their venue, Lydia's Mountain, and Dakota got ready at the barn. Their first look was unforgettable. Dakota just CHECKED out his woman, and you could see hearts in his eyes. Their ceremony was quick and perfect as the rain held out JUST until they said I do.
The rest of the night was full of good food, dancing, laughing, and lots of sweet moments that we will never forget. We can't wait to see where the Lord takes this couple and the adventures they go on together as Mr. and Mrs. Clark!
Congrats, you two lovebirds!
Vendors
Makeup: The Studio Hair Salon & Day Spa and Gabi Pacheco. (Solo artist)
Hair: Julie McQuillan Hanson and her friend, Tina
Dress: Tiffinie Bleu Bridal Boutique
Preacher: Carter Dean of Shenandoah Assembly of God Church
DJ: Kevin Dofflemyer
Florals, Decor, and cake, planning: The amazing bride, Mrs. Gabbrial Clark
Wood tables, chairs, tablecloths, and the tulle wall: Amanda's Receptions
Food: Rudy's Diner for the chicken, our neighbor Aileen moubray with the tenderloin, and some dear friends, the Gibson family, for the home cooked sides!
Venue: Lydia Mountain Lodge and Cabins
Photography & Videography: Millpond